Dead people voting? It's happened before
Donald Trump has said he believes that the election results on Tuesday Nov. 8, 2016 will be "rigged" and he's received a lot of criticism from the biased mainstream news media. But the truth is that elections are easily rigged and ghost voting and voter manipulation are common. A recent poll suggested that many Americans feel the same, especially the young
By Ray Hanania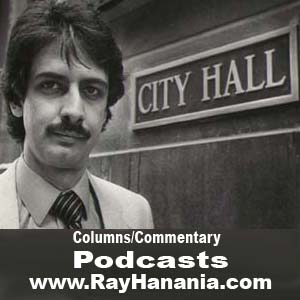 Donald Trump has said he believes that the election results on Tuesday Nov. 8, 2016 will be "rigged" and he's received a lot of criticism from the biased mainstream news media.
But the truth is that elections are easily rigged and ghost voting and voter manipulation are common. It's amazing how people are claiming it can't happen that the election can't be rigged and that claims that it will be rigged are examples of why Donald Trump is unfit to be president.
But elections can be rigged and have been rigged in the past. The most notable was the battle between Richard M. Nixon and John F. Kennedy in 1960 and the voter theft occurred in Chicago and in many major Democratically controlled cities.
That election was close and Nixon lost to Kennedy by 112,827 votes nationwide out of more than 68 million votes cast.
A recent poll suggested that many Americans feel the same, especially the young.
This is Ray Hanania's column commentary Podcast … Hanania's columns are published each week in newspapers throughout the United States and in the Middle East.
He writes on American politics and life in Chicagoland every week in the Des Plaines Valley News,Southwest News-Herald, The Regional News, the Reporter Newspapers, NewsAmericaNetwork.com, and IllinoisNewsNetwork.com.
Hanania also writes a weekly column every Thursday for the Arab News at www.ArabNews.com. And, writes news and features for his website at TheArabDailyNews.com, and for the Arab News at www.ArabNews.com and the Daily Hookah at www.TheDailyHookah.com.
An award winning former Chicago City Hall reporter named Best Ethnic Columnist by the New America Media, and recipient of the Sigma Delta Chi award for writing, Hanania is of Palestinian Arab heritage. 
You can reach him and share your opinions and thoughts by emailing him at rghanania@gmail.com. All his columns are archived at RayHanania.com.
This podcast is available at Podbean.com and also for free subscription on iTunes.
(An award winning former Chicago City Hall reporter and columnist. American Palestinian Arab, Hanania writes a weekly column for the Arab News at www.ArabNews.com. He also writes each week for several mainstream American newspapers on American politics and life in Chicagoland. Reach him at rghanania@gmail.com.)